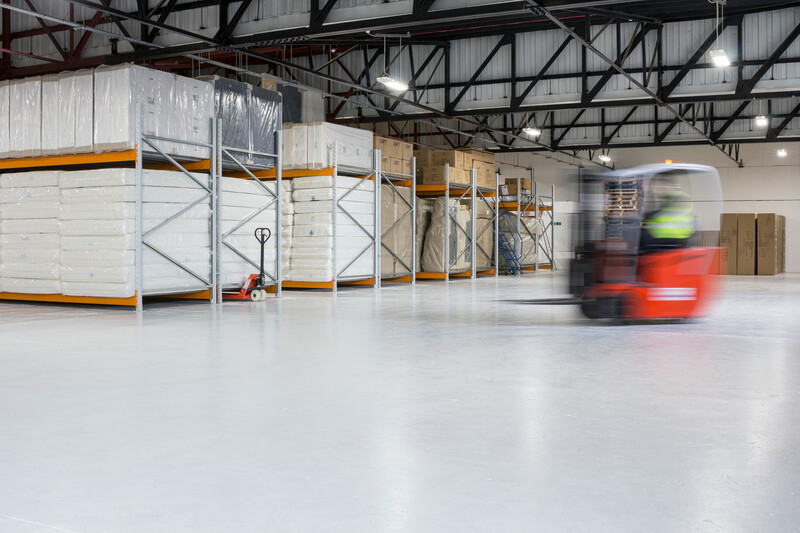 Our Warehouse, Is Your Warehouse

---
We have the capacity to take care of things when you need it most.
If you want to safeguard your development against risks, be in control of project timelines, and access furniture just when you need it, secure storage of your assets can't slow things down. We offer a vesting and storage solution, so you don't have to worry about a thing. It means you can purchase all your goods in advance, store them safely with us, and retain the legal rights to them straight away. They're all yours, they're just safe with us.
How Does It Work?

---
We have large warehousing facilities in the North and South of England where you'll have a dedicated storage space for your stock. Everything will be clearly labelled and available for your team to inspect. Then every piece is ready when you need it, depending on your programme of works. It means you can enjoy the security of legal ownership of the goods required to compete your project, without the logistical burden of storing and insuring them yourself.
Looking For Storage?

---
If you know your project requires 'Just In Time' warehousing and dispatch then let us know. Or, if your project will need significant follow-on stock holdings, get in touch. We can hold for build stage to replenishment.
That's A Lot Of Space

---
It really is. Over 125k sq ft of warehousing capacity in fact, holding £2.5m+ stock at all times, ready for immediate dispatch. This also gives us the capacity to hold stock for our partners, in case of unforeseen delays to practical completion. Providing a simple and safe solution to a problem that can derail or disrupt the best laid plans.
From Top To Bottom

---
Wherever you are in the UK, we've got you covered. Our northern distribution facility encompasses 80,000 sq ft of warehousing with offices onsite and a dedicated photography studio space. Plus, there's a recycling area where all waste and removed products are recycled wherever possible. Our southern distribution facility holds 45,000 sq ft of warehousing and office space located in Zone 3 of West London.
Embankment in Birmingham is the first Private Rental Scheme to be completed by InReach Living and we have been pleased to work with LOFT on this development. LOFT are a good company to work with, the furniture is of a high quality and our tenants have told us they are very happy with the furniture we have provided. The installation of the show flat and furniture was completed efficiently and to an excellent standard by very friendly and accommodating operatives. LOFT has performed above expectation in advising us about furniture and dressings for the lobby area of our development. We would have no hesitation in working with LOFT in the future.

InReach Living
Start The Conversation

---
Put our team to the test. If you have a project in mind that you think we could help you with, then get in touch. We'd love to hear from you.